Bringing electric mobility expertise to more industries in partnership with Enel X Way
MB Renting, a company of the Mitsui & Co. Group, in alliance with Enel X Way, created a space for conversation on electric mobility to resolve doubts and queries about electric vehicles on the market, autonomy, types of chargers and plans for infrastructure in the network of charging points.
The meeting was held at the offices of MB Renting, and was attended by the main clients from the mining, banking and services sectors who intend to acquire electric vehicles for their management, commercial and operational fleets. This, with the objective of continuing with their sustainability plans and the decarbonization of their operations.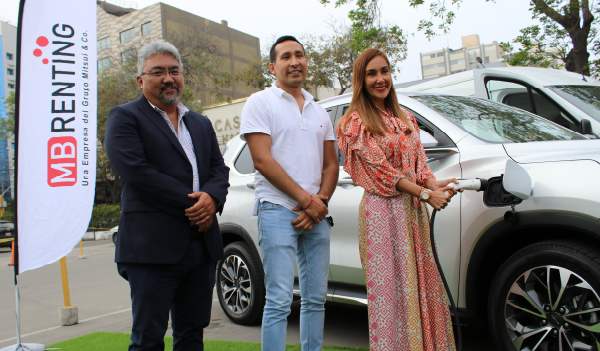 This event was made possible thanks to the collaboration of Wigo, who exhibited the Hyundai Kona 100 Electric; Andes Motors, with its new SUV Maxus EUNIQ 6 and the EVT-90 pick up; and Astara with the SUV KIA EV6. In addition, we had the presence of the General Manager of Enel X Way, Alex Ascón Jimenez, who presented the Juice Box electric charger and commented on the different solutions offered by the company according to the type of use and operations of each industry.
Also, the importance of the alliances between MB Renting and electric solutions companies was made known, since the implementation of electric vehicles requires the advice of experts in the optimization of fleet management and experts in the ideal infrastructure so that companies have a better experience and the electric mobility market continues to grow.
We must continue to generate alliances to educate companies and the general public about the benefits and properties of electromobility so that demand increases and, in the long term, we have a wider network of charging points and manage to minimize the environmental impacts we generate in our operations and contribute to the sustainable development of the country.